Kide Science launches in Brazil with Red Balloon, part of Cogna Educação
Cogna Educação is one of the largest private educational organizations in the world, operating for over 70 years.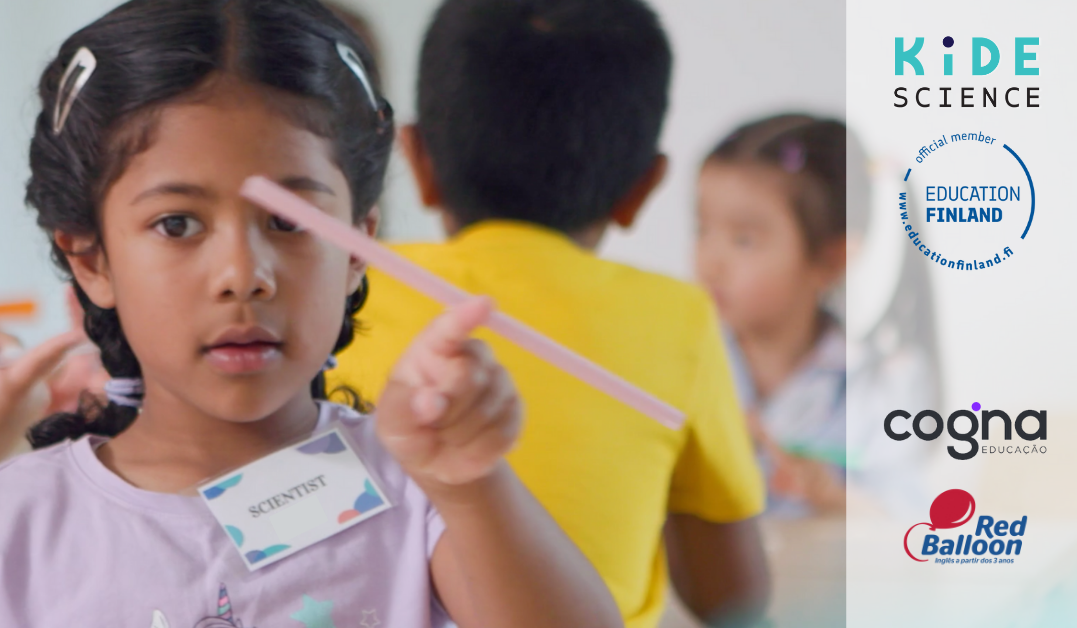 Kide Science is excited to announce our first partnership in Brazil with English Language School chain Red Balloon. This will allow Kide Science lessons to be taught to about 10 000 children between 3-8 years annually with hundreds of early years teachers in over 100 Red Balloon locations.

"We are so excited to find this kind of partnership where we can also now experience in action how Integrated science education and language learning enhance young children's understanding of science, content, and science process skills. Our pedagogy is already backed by research, and now we can also see it with Red Balloon", said Sari Hurme-Mehtälä, CEO of Kide Science.

Stories are known to promote children's oral language development, and that is one of the reasons why Kide Science uses storytelling as a gateway to enter the scientific play world where the stories improve children's language acquisition. In Kide Science's pedagogy, we hold that language is a dominant cultural tool to mediate meanings. Thus, language skills are underscored in all phases of inquiry from verbalizing children's questions and wonderings to communication of inquiry processes and results.

"We wanted to start with Kide Science as we see how it expands the concepts of science and language education to the wider underpinning perspective of multiliteracy. Our teachers also value how easy the platform is for them to use and how engaging stories are in all the lesson plans for young children entering the imagination world. And the parents are so happy that we can share fun home experiments for families to continue learning at home and playing together with children", said Carol Stancati, the Director of the Red Balloon In School.

Kide Science supports teachers with story-based hands-on STEAM lesson plans for 3-8 year-olds, and online training in play-based pedagogy. With holistic support, teachers can focus on working with the children to provide wondrous hands-on science experiences in a classroom, remotely or in a hybrid model. Through this cooperation with Red Balloon, students from Finland and Brazil will have the opportunities to work on projects together and have pen pals. If you are a teacher in Finland, please contact info@kidescience.com to be connected to Red Balloon.
About Cogna Educação & Red Balloon
Cogna Educação is one of the largest private educational organizations in the world, operating for over 70 years. On October 11, 2018, Cogna concluded the operation to acquire the controlling interest in Somos, the leading primary and secondary education group in Brazil. Currently, Cogna has 844,000 on-campus and digital undergraduate students in its Kroton vertical, and 44,000 graduate students in its Platos vertical, served by 176 own Postsecondary Education units and 1,536 accredited Digital Education centers. In K-12 Education, the Saber vertical had 31,000 students distributed in 52 own schools/managed through contracts and 22,000 students distributed in 122 Red Balloon units, while the Vasta vertical had 1.5 million students served through approximately 4,200 partner schools using core and complementary content solutions.

For more information visit Cogna or Red Balloon websites or contact: Juliana Milan | Marketing – Head of Growth B2B | + 55 (11) 94114 0209 | juliana.milan@virtualrb.com.br

About Kide Science:
Kide Science develops young children's scientific thinking skills through engaging hands-on experiments that solve real science problems. A proven pedagogical method predicts better learning outcomes in school and is based on years of rigorous academic research conducted Founder & Researcher Jenni Vartiainen, PhD in the University of Helsinki. Kide Science's online platform provides teachers with training and lesson materials to lead playful STEAM education with storytelling for 3-8 year-olds already in 30 countries. Kide Science is the official member of Education Finland which is coordinated by the Finnish National Agency for Education.

For more information visit kidescience.com or contact: Sari Hurme-Mehtälä, CEO | sari@kidescience.com | +358 445315134