DreamWorks Animation's Gabby's Dollhouse is coming to Kide Science!
Kide Science has partnered with DreamWorks Animation and its hit Netflix series Gabby's Dollhouse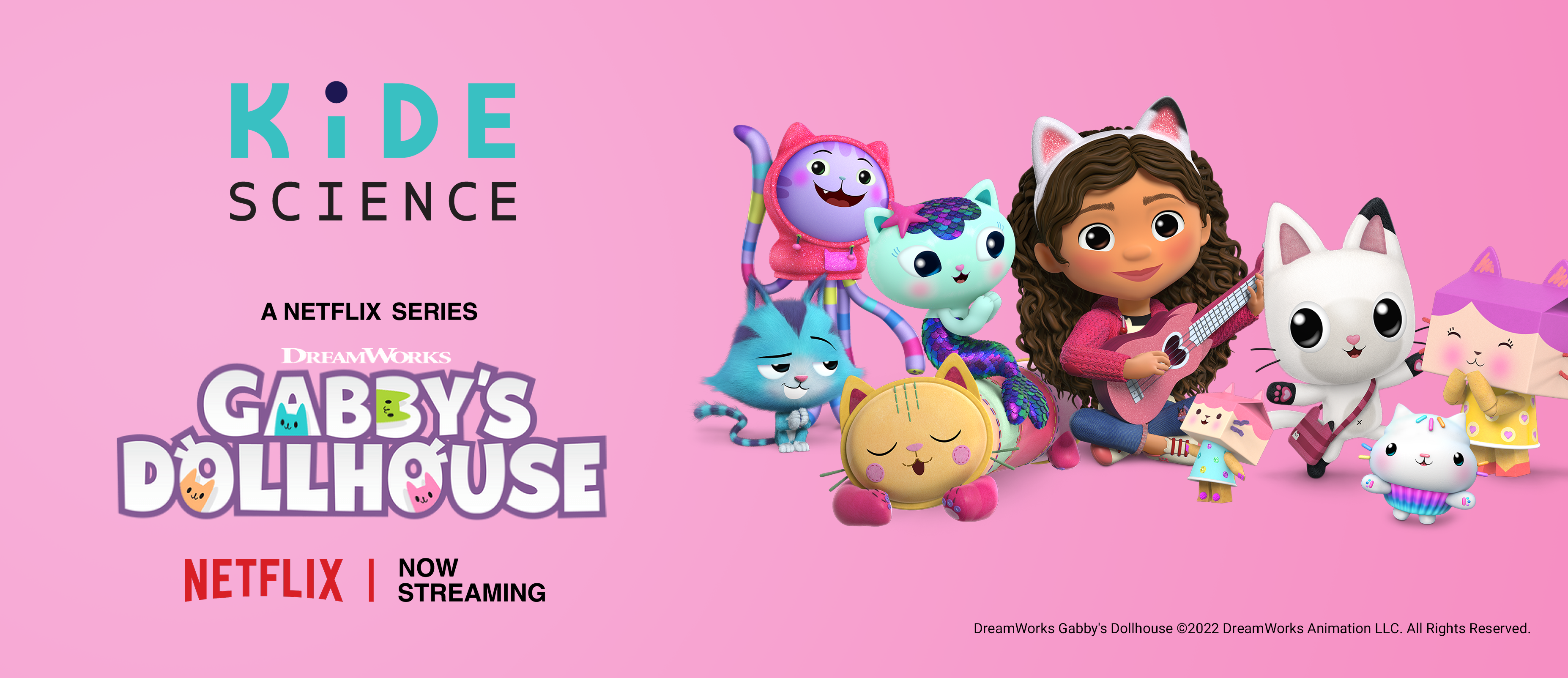 Kide Science has partnered with DreamWorks Animation and its hit Netflix series Gabby's Dollhouse to give young scientists cat-tastic themed lesson plans to encourage playful, engaging and inquiry-based learning. Gabby's Dollhouse is a paws-itively wonderful mixed media series which follows the adventures of Gabby and her cat friends, all while they explore her magical dollhouse. The show teaches children to revel in their mistakes, fail fantastically, and always keep a curious mind.

"My kids LOVE Gabby's Dollhouse," says Kide Science CEO Sari Hurme-Mehtälä, "so when DreamWorks reached out to collaborate, I was over the moon. Each episode uses a child's sense of wonder to spark their learning, and that's embedded in Kide Science's DNA."

Kide Science provides wondrous story-based lesson plans for 3-8 year olds, and encourages everyone to give engaging and exciting lessons. Previously, these lessons only took place in the magical world of Supraland with our own characters. Now, through this a-meow-zing partnership, kids will get to meet Gabby and her furry friends , with an added Kide Science touch.

We are certain that your little ones will be so inspired to solve hands-on problems with Gabby and friends: cementing what they have already learned from each episode's wonderful adventure. Sign up for Kide Science for free today to get notified about the new themed lesson plans!
ABOUT GABBY'S DOLLHOUSE
Since the debut of DreamWorks Animation's hit series Gabby's Dollhouse, kids around the world have been having one big sprinkle party with their new friend Gabby and all her kitty friends. Created and executive produced by celebrated storytellers Traci Paige Johnson and Jennifer Twomey, Gabby's Dollhouse is a mixed media preschool series that unboxes a surprise before jumping into a fantastical animated world full of adorable cat characters that live inside Gabby's dollhouse. Rooted in growth mindset, Gabby's activity-based episodes encourage flexible thinking and learning from your mistakes. The popular series has inspired many expansions including a successful toy line, publishing, original music, a top-rated app and a growing YouTube channel garnering millions of weekly views. Any adventure can unfold when we play in Gabby's Dollhouse, now streaming on Netflix.
ABOUT KIDE SCIENCE:
Kide Science develops young children's scientific thinking skills through engaging hands-on experiments that solve real science problems. A proven pedagogical method predicts better learning outcomes in school and is based on years of rigorous academic research conducted Founder & Researcher Jenni Vartiainen, PhD in the University of Helsinki. Kide Science's online platform provides teachers with training and lesson materials to lead playful STEAM education with storytelling for 3-8 year-olds already in 30 countries. Kide Science is the official member of Education Finland which is coordinated by the Finnish National Agency for Education.